It's Q1 2020 and the digital world is ever-present and everywhere we look. There are over 5 billion mobile devices on the planet built to consume, create, and share digital content. Sexy tech startups are in the news. Companies that were once startups like Airbnb & Uber are now multibillion-dollar household names.
The smartphone in your pocket is so advanced that it is almost an alien device from the future. This highly portable pocket sized device has functionality which includes high definition photo and video, voice recognition, email, SMS, MMS, and the ability to search the entire global repository of knowledge via search engines, buy items, send money to people, and even give you turn by turn navigation instructions.
When people want to find out new information, they go to the internet. And guess what? If you're not online with your brand's content indexed by the search engines and the social web, then you don't exist in the eyes of the consumer. It's just that simple.
The absolute #1 most powerful action you can take right now to build asset value in your brand, business, or personal identity is to build and operate your own website. I am specifically suggesting that you purchase your own domain name, figure out an appropriate web hosting solution, and publish your own unique content to your own website.
While I do feel there is value in other forms of digital online presence, absolutely nothing is as important or powerful as your own domain and website combination.
This combo is better than Facebook, Twitter, LinkedIn, Blogger, WordPress, Tumblr, Instagram, Pinterest, or YouTube. So how could your domain and website possibly be more important than a huge, billion-dollar website or social network? The key word and concept here is "your." You see, when you use the services listed above, you are a visitor that has temporary permission to use their website and service.
When you use these services and social networks, you are agreeing to their "Terms and Services." While the TOS messaging varies from company to company, in many cases you are giving up some of your rights as a content owner. In addition, when you are a user on these large networks, you are there to build up their traffic. They view your content as "User Generated Content." UGC is created in aggregate by millions of users and then they monetize it with display ads and premium services. So, you give them free content, you give them extensive rights to use your content as traffic generating material and marketing material, and you give them permission to make money off you and your content.
At ANY given time, these websites can (and do!) change their terms of service in ways that are not favorable to you as the content creator and owner. These changes could include charging you a fee for a service that has been free for years, or it might mean that they plaster ads all over the site where it had previously been ad free. In an extreme scenario, they might decide that you are no longer welcome on their network and they will terminate your account. All of that time and work spent building friends and traction on the platform and poof, it's all gone in an instant. Yes, they can do that and it happens all the time.
The Ultimate Digital Platform is one that legally own and control. A personal or business domain running a website is a form of digital real estate. Instead of borrowing space on a 3rd party social media platform invest in the ownership of the Ultimate Digital Asset, your own website.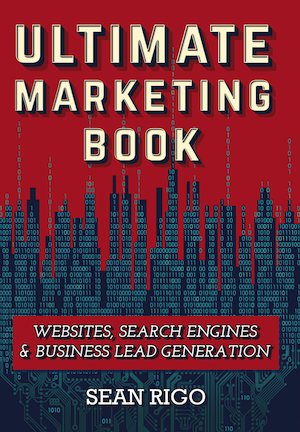 Excerpt from the Ultimate Marketing Book: Websites, Search Engines, & Business Lead Generation by Sean Rigo.
First Edition, 468 pages.